Member for Murrumbidgee Chris Steel MLA, on behalf of Minister for Health and Wellbeing Meegan Fitzharris, today launched the ACT's new AirRater smartphone app, providing users with real-time, geographically-specific information on pollen, air pollutants and temperature in the ACT.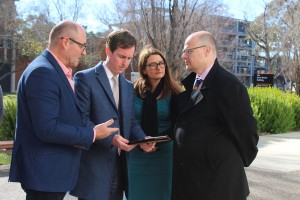 "It is timely to be launching the AirRater smartphone app on the eve of National Asthma Week. This app provides free and practical advice to Canberrans with asthma, hay fever and other lung conditions, as well as highlighting the importance of early intervention to prevent severe symptoms," Mr Steel said.
"For many people in our community who suffer with asthma or other chronic respiratory illnesses, this app will help them to be more aware of air quality in their region.
"One in nine Canberrans report having symptoms of asthma, which we know can be exacerbated in the spring time with the onset of high levels of pollen being released into the air.
"One of the great features of the AirRater app is the ability for users to input information of their symptoms and medication use on a daily basis. Over time, AirRater will provide individualised reports showing each user how environmental conditions impact their symptoms and alerting them when those conditions exist. This will allow vulnerable Canberrans to adapt their behaviors to minimise symptoms.
"With spring on its way, I encourage Canberrans to download the AirRater app, not only for themselves, but also for loved ones who may be at risk during times of high pollen or low air quality."
AirRater in the ACT uses data from the air quality monitoring stations located in Civic, Monash and Florey, pollen counts monitored at the ANU, as well as the Bureau of Meteorology weather monitoring information.